Events

Global Food Forum 2017
On a Farm, close to Venice
19/10/2017 19:00 - 21/10/2017 14:00
Organised by : Farm Europe, in partnership with Confagricoltura
I would like to attend the event
Dear Ms or Mr,
Thank you. We confirm that we received your request. We will come back to you in the coming days in order to confirm and provide you all the necessary information to prepare the Global Food Forum.
The closest airport to the place of the forum will be Treviso or Venice. Connections will be organised from these airports to the place of the Forum.
In case you need to contact us, do not hesitate to send us an email at the following address: info@farm-europe.eu
Kind regards,
Farm Europe's team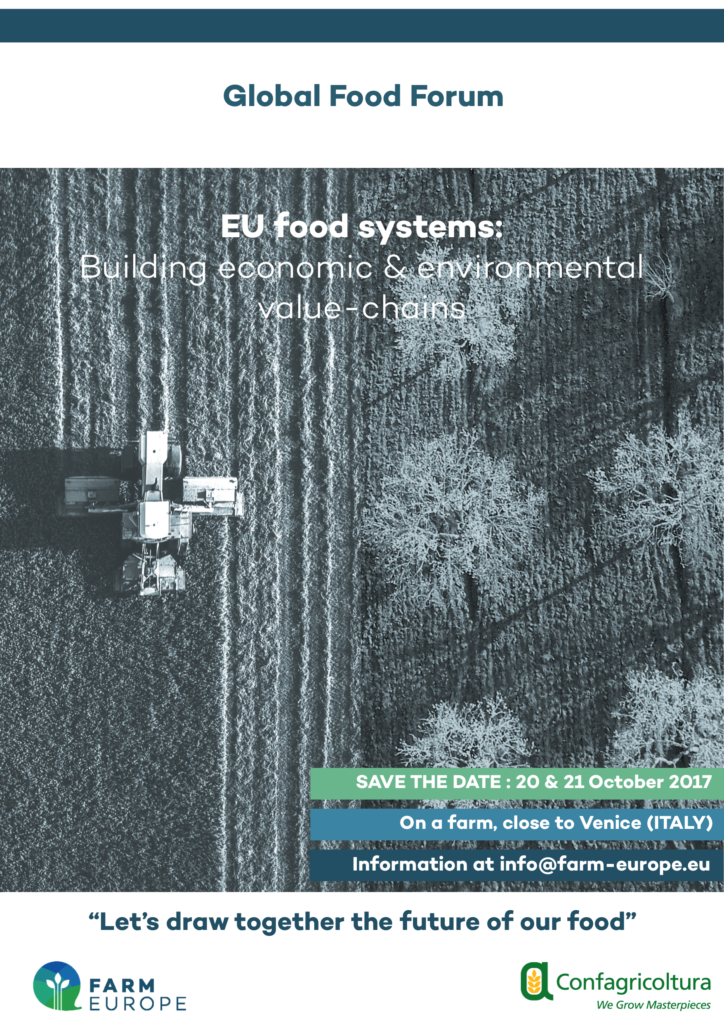 On the 7th of February, Farm Europe launched the 2017 edition of the Global Food Forum at the European Parliament, in the presence of Commissioner for Agriculture and Rural Development Phil Hogan and main EP's leaders.
We are now pleased to communicate the official dates for the 2017 Global Food Forum: 20-21 October 2017. The event, focusing on "EU food systems: building economic & environmental value chains" will take place in Italy, in a rural village and vineyards around Susegana, close to Venice.
The  Forum will start on the 19th of October at 19h00 with informal dinner among participants allowing an initial round of exchanges.

On the 20th of October, the morning session will focus on the strategic approach to be developed for a shared ambition between EU food systems and EU society, while discussions among participants will be developed throughout the afternoon sessions around 6 World-café workshops held in parallel. 

On the 21st of October, building upon the work of the previous day, participants will have the chance to discuss with EU key political leaders on how to build resilient economic & environmental value chains for EU food systems via an ambitious EU policy. 
The 2017 GFF is expected to close its doors at 14h00 on the 21st of October. 
On the basis of the thinking process, policy recommendations will be developed. The final report of the Global Food Forum 2017 will be presented to EU decision-makers.
Click on "I would like to attend" to have the full programme and start the registration process.
Already confirmed speakers:
Jean Arthuis, Chair of the European Parliament Budget Committee
Dacian Cioloș, former Prime Minister of Romania, former Commissioner for Agriculture and Rural Development
Maurizio Martina, Italian Minister of Agricultural, Food and Forestry Policies
Gian Luca Galletti, Italian Minister for Environment
Michel Dantin, Member of the European Parliament
Paolo De Castro, First Vice President Comagri EP
Herbert Dorfmann, Member of the European Parliament
Angélique Delahaye, Member of the European Parliament
Pilar Ayuso, Member of the European Parliament
Rudolf Moegele, Deputy Director General at DG AGRI, European Commission
Catherine Geslain-Lanéelle, DG French Minister for Agriculture
Andrea Gavinelli, Head of Unit in DG SANTE, European Commission
Christiane Lambert, President of the French Farmers Organisation (FNSEA)
Massimiliano Giansanti, President of Confagricoltura and the GFF 2017
Laurent Vallée, Secretary General of Carrefour Group
Meurig Raymond, President of National Farmers Union
Philippe Pinta, President of Unigrains
Arnaud Rousseau, President of Avril Group and Chair of the Oilseeds Working Group of COPA-COGECA
Claudia Michel, Director at Bayer
François Schmitt, President of Federation Groupama
Jan Dolezal, Secretary General AKCR
Eric Laine, President of CGB and First Vice-President of the International Confederation of European Beet Growers (CIBE)
Piero Gattoni, President of Consorzio Italiano Biogas (CIB)
Pierre Olivier Drege, President of European Landowners Organization (ELO)
Daniel Coulonval, Farmer – FWA
Philippe Ruelle, Director General at UGPBAN/FRUIDOR
Carole Rocca, InVivo Group