Events

Global Food Forum 2018: Can EU agri-food systems be again the beating heart of the European Union?
ON A TYPICAL FARMHOUSE, CLOSE TO PAVIA
17/09/2018 12:30 - 18/09/2018 16:30
Organised by : FARM EUROPE, IN PARTNERSHIP WITH CONFAGRICOLTURA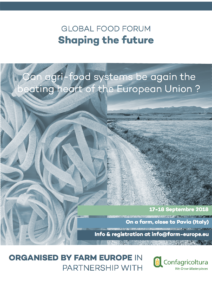 REGISTRATIONS ARE CLOSED
The 2018 Global Food Forum will take place on the 17-18 September 2018, focusing on "Can EU agri-food systems be again the beating heart of the European Union ?". Discussions will take place in a typical farmhouse in the heart of Lombardy countryside, close to Pavia (Italy). 
The  Forum will start on Monday, 17th of September at 12h30 with an informal lunch among participants allowing an initial round of exchanges. The afternoon plenary session and roundtable will focus on strategies and policies to reposition agri-food systems as the beating heart for the future of the European Union and the European citizens.
On Tuesday, 18th, discussions among participants will be developed throughouts the 5 World-café workshops held in parallel, assessing the best ways and means to achieve this goals through Double Performance, Innovation, Sustainability, high level of Resilience and… effective and efficient policies.
The 2018 Global Food Forum will end with a wrap up roundtable discussion with key representatives of EU co-legislators and Agri sectors drawing performant EU policy for double performant EU agri-food systems.
Since 2016, the Global Food Forum has involved each year  key political and economic decision makers across the European Union in a participatory process, more needed than ever to unfreeze the debate at EU level and set up the foundations of a renewed ambition of EU policies having an impact on agri-food systems. Held in North Italy, the GFF gathers under the Chatham house rules a limited number of economic and decision makers taking stock willing to design the future of the EU agri-food systems and related EU policies. Each year, the conclusions and recommandations of the Forum are presented in Brussels at the European Parliament.
Click on "I would like to attend" to start the pre-registration process.
Confirmed speakers:
Dacian Ciolos, former Prime Minister and Commissioner for Agriculture
Gian Marco Centinaio, Italian Minister for Agriculture
Stéphane Travert, Minister of Agriculture and Food, France 
Jean Arthuis, MEP, President of the Budget Committee of the European Parliament
Paolo De Castro, MEP, rapporteur on the Unfair Trade Practices
Michel Dantin, MEP, EPP shadow rapporteur on the CAP reform
Pilar Ayuso, MEP, EPP
Lara Comi, MEP, EPP 
Angelo Ciocca, MEP, ENF
Alberto Cirio, MEP, EPP 
Jean Baptiste Moreau, Membre of the Parliament (République en Marche, France)
Lucilla Sioli, Director at the European Commission (DG CONNECT)
Jiri Sir, State Secretary (Ministry of Agriculture and Food, Czech Republic)
Brendan Gleeson, Deputy Secretary General (Ministry of Agriculture, Ireland)
Massimiliano Giansanti, President of Confagricoltura
Pierre Bascou, Director at the European Commission (DG AGRI)
Ioannis Koufoudakis, President of GAIA
Tassos Haniotis, Director at the European Commission (DG AGRI)
François Schmitt, President of Groupama
Zoltan Somogyi, Head of Unit at the European Commission (DG TRADE)
Rafael del Rey, Director General, Spanish Wine Market Observatory (OEMV)
Jean Cordier, Economist INRA Agro-Campus
Philippe Pinta, President of Unigrains
Eric Lainé, President of CIBE
Simo Tiainen, Director of MTK
Catherine Lion, Director General FNSEA
Piero Gattoni, CEO of CIB
Arnaud Rousseau, President of Avril
Jan Dolezal, SG of AKCR
Henri Brichart, Vice-President of FNSEA
Philippe Ruelle, DG of Fruidor
Attilio Zanetti, CEO Zanetti Spa – Vice President EDA 
Eddie Punch, SG ICSA
Thierry Coste, President of Wine WG Copa-Cogeca
Andrea Gavinelli, Head of Unit – European Commission (DG Sante)
Felice Assenza, Director General (Ministry for Agriculture, Italie) 
Bruce Zanin, Minister Counselor for Agriculture (US Embassy to the EU) 
Eduardo Diniz, Director General (Ministry of Agriculture, Portugal)
Elisabetta Falchi, Member of Executive Board, Confagricoltura 
Matteo Lasagna, Member of Executive Board, Confagricoltura
Giovanna Parmigiani, Member of Executive Board, Confagricoltura
Rosario Rago, Member of Executive Board, Confagricoltura
Giordano Emo Capodilista, Member of Executive Board, Confagricoltura
Esperanza Orellana Moraleda, General Director for agricultural production and markets, (Ministry of agriculture, fishing and food, Spain)