Events

RED2: Which opportunities for EU farmers to contribute to the energy transition
European Parliament, Brussels
22/11/2018 09:00 - 22/11/2018 11:00
Organised by : Farm Europe Green Energy Platform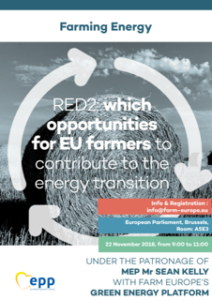 Farm Europe's Green Energy Platform is pleased to invite you to an event on "Farming Energy – RED2: Which opportunities for EU farmers to contribute to the energy transition" which will be held on Thursday 22 November 2018 from 9h00 to 11h00 at the European Parliament in Brussels, room A5E3, under the patronage of MEP Sean Kelly, who will open and chair the discussion.
The debate will focus on what has been achieved so far during the last rounds of RED2 negotiations and on which milestones should be set for the future challenges ahead, reflecting on the vision and the potential of EU agriculture as an energy provider.
DG ENER Head of Unit Renewables and CCS policies Mrs. Paula Abreu Marques, will give a short introductory speech, which will be followed by remarks from high-level representatives of the Agri-food & Energy community, including members of Farm Europe's Green Energy Platform (i.g. Verbio, Italian Biogas Consortium (CIB), ICSA).
It will be then followed by a discussion with MEPs involved in the RED2 files and as well with EU economic and political leaders.
We kindly ask you to confirm your presence by sending an email to: info@farm-europe.eu
Finally, we are at your disposal for any additional information you may need.
Kind regards,
Farm Europe's team