Farm Europe FAQs

What is Farm Europe?
Farm Europe is a multicultural think tank that aims to stimulate thinking on rural economies in the European Union and offer an informal platform to all economic, institutional and academic actors that are interested in:
the future of the EU agricultural sector & the food chain;
building together and sharing forward looking ideas for an efficient and ambitious EU agenda & political framework.
The think tank focuses on all policy areas that have an impact on rural business with a strong emphasis on agriculture and food policies, and especially the Common Agricultural Policy (CAP), which is the main public lever for action at the European level. It also focuses on food standards, the food chain, environment, energy and trade issues.
Why do we need it?
In the context of a European Union with 28 Member States, and taking into account institutional changes, the think tank is a place:
to reflect proactively on the future in order to close the time gap between the EU decision making process and thinking on policies that have an impact on the agri-food sector, with the support of experts having an in-depth knowledge of EU institutions and policies ;
to strengthen contacts and informal exchanges with European partners involved in the future of the agri-food sector and who share the same European ambition: farmers organisations, cooperatives, private companies, EU institutions & scientists.
Who stimulates the thinking of the think tank?
Members of the think tank are fully involved in the working process and are supported by a team of 4 main "animators":
 Joao Pacheco, former Deputy Director General of DG AGRI (European Commission) oversees and stimulates the debate on all the trade related topic.
Lars Hoelgaard, former Deputy Director General of DG AGRI, and special advisor to the Climate Action Commissioner.
Yves Madre, ex Senior advisor to the Commissioner for Agriculture – coordinates the work of the think tank with a special focus on the Common Agricultural Policy and agricultural markets.
Luc Vernet, former journalist and Speechwriter to the Commissioner for Agriculture – general coordination of the work of the think tank with a special focus on the dissemination of the think tank's thinking.
How do we work?
The work of the think tank is materialized in: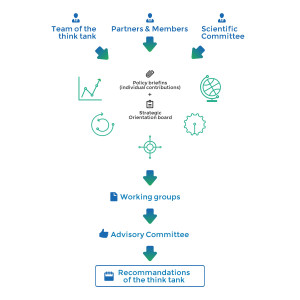 Policy briefings (produced by the animators and members of the think tank when they want and have the expertise to feed the debate) ;
Internal events to feed the debates with expertise and confront ideas (once a month) and high level events for presidents of member organisations;
Political recommendations – to be developed with the members;
Events and campaigns to stimulate the debate, promote the ideas of the think tank and engage specific NGOs dealing with specific matters (envi/animal welfare, etc) with the debates.
To know more about Farm Europe, read our section "The Concept"