Events

GFF 2021: How can the Green Deal be a good deal ?
On a farm close to Brussels
15/11/2021 16:00 - 16/11/2021 18:00
Organised by : Farm Europe
I would like to attend the event
Thank you for your interest in the Global Food Forum!
We will send you soon the details to finalise your registration process.
For any questions, do not hesitate to contact us at: info@farm-europe.eu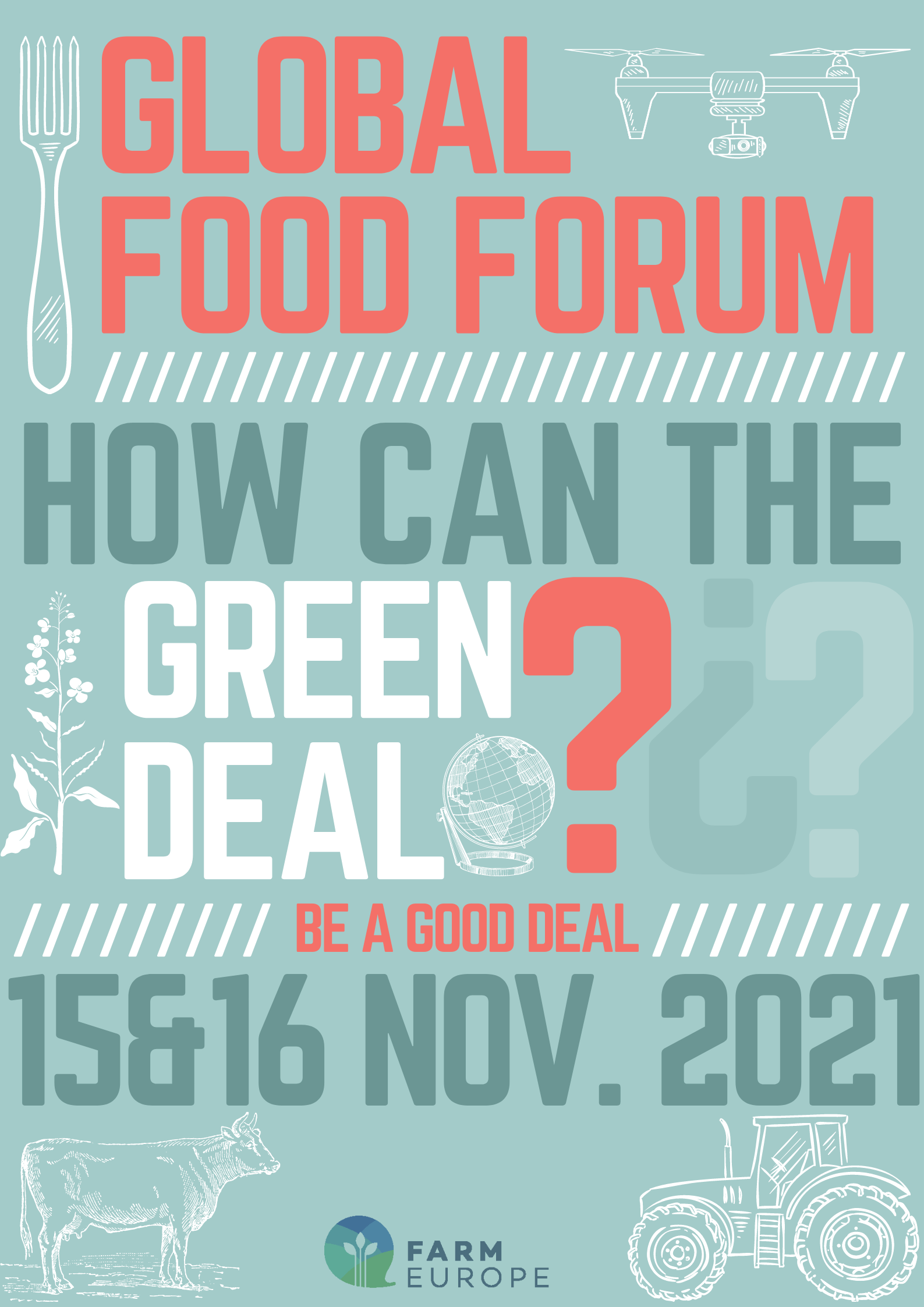 The Green Deal: how to make it a good deal ? To meet this challenge in the agricultural sector, Europe will need to mobilise all energies and goodwill !
That's why Farm Europe will gather, for the 5th edition of the Global Food Forum, prominent figures from the European institutions, national Ministers, economic leaders from many Member States as well as media & Civil Society.
If you wish to contribute and be part of the reflection to build recommandations, do not hesitate to register !
Please note that the seats are limited due to Covid-19 restrictions. 
Click at the top of the page on "I would like to attend" to start the pre-registration process & have access to the full programme – the list of confirmed speakers will be updated regularly.
---
The Global Food Forum aims at shaping the future of EU food systems, presenting the challenges and designing recommendations for decision makers, in order to foster growth, added value, and sustainability within the EU as a whole.
The event is organised by the think tank Farm Europe in cooperation with its partners. Since its first edition in 2016, the Global Food Forum has involved every year more than 600 key decision-makers in the course of  regional Forums across Europe and its main two-days event gathering top decision-makers together with high-level representatives of the European Farming Sector and other influencers.
Due to the Covid-19 pandemic and the health restrictions the 2020 edition could not be organised. The 2021 edition will host a limited number of participants in the respect to the Covid-19 restrictions. 
Participants will be requested to show a valid EU Covid-19 Green Pass.
Amongst confirmed speakers:
– Luis Planas, Spanish Minister for Agriculture, fisheries and nutrition 
– David Clarinval, Belgium minister for middle classes, independents, SME, agriculture, of institutional reform and of democratic renewal 
– Charlie McConalogue, Irish Minister for Agriculture, food and marine
– Garth Thorburn, Minister Counselor, USDA 
– Marie-Pierre Vedrenne, MEP
– Peter Jahr, MEP
– Pina Picierno, MEP
– Martine Leguille Ballois, Member of the French Parliament 
– Maciej Golubiezski, Head of Cabinet of the Commissioner for Agriculture, European Commission
– Tassos Haniotis, Deputy Director General DG AGRI, European Commission
– Claire Bury, Deputy Director General DG SNTE, European Commission
– Flavio Coturni, Deputy Director General DG TRADE, European Commission
– Pierre Bascou, Deputy Director General DG AGRI, European Commission
– Leonard Mizzi, Head of Unit DG INTPA, European Commission
– Giovanni De Santi, Director, Joint Research Centre, European Commission
– Jiří Šír, Deputy Director General, Czech ministry of agriculture
– Philippe Tillous-Borde, Special Rapporteur of the French government on Barriers against Sahel & protein production in Africa
– Frédéric Lambert, chief European & International affairs, French Ministry of agriculture
– Stephan Peters, PhD, head of nutrition & food legislation, NZO -Dutch Diary Association
– Christiane Lambert, President of COPA & FNSEA
– Ettore Pandini, President, Coldiretti
– Eric Thirouin, President, AGPB
– Luigi Scordamaglia, CEO, Filiera Italia
– Marianne Streel, President, FWA
– Jean-Marc Bournigal, Director General, SEMAE
– Gérard Tubéry, President, Farm Africa Development
– Elli Tsiforou, Secretary General, Gaia
– Jan Ulrich, Director, ZSCR
– Vincent Brack, Director, FNPL – French milk farmers organisation-
– Adrian Sedivy, Member of the board, SPPK
– Eddie Punch, Secretary General, ICSA
– Piero Gattoni, President, CIB
– Benjamin Lammert, President, GEP; Vice-President, FOP
– Thierry Coste, wine grower / Special advisor, Wine Institute
– Jean-Pierre Fleury, Chair WG on meat at Copa-Cogeca
– Eric Sievers, Director of investments, ClonBio
– Jan Dolezal, President, AKCR
– Arnaud Rousseau, First Vice-President, FNSEA
– Udo Hemmerling, Deputy General Director, DBV
– Cedric Benoist, farmer, AGPB
– Aris Christodoulou, CEO, SIGA